WATCH: Taylor Swift and Bon Jovi perform 'Livin on a Prayer' with Prince William
JUST ADDED: 5 Seconds of Summer will be rocking the stage at this year's iHeartRadio Music Festival Village in Las Vegas! The band sat down with Ryan Seacrest to break the news. Click here to buy your tickets now, before they sell out!
Listen to Taylor Swift on iHeartRadio | Listen to Bon Jovi on iHeartRadio
Taylor Swift met Prince William at the Winter Whites Gala at Kensington Palace on Tuesday — and together they provided Jon Bon Jovi with some backing vocals for a special performance.
The singer looked regal in an elegant white gown as she chatted with the famous royal, and the pair later took the stage to join the rocker on "Livin on a Prayer."
The event was put on by Centrepoint, a charity William supports that works to "build a brighter future for homeless young people."
Check out photos and video from the night below!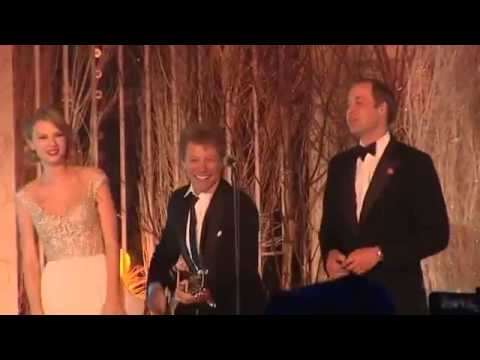 Photo Credit Getty Images